ON Friday, November 24 the Belfast Media Group will crown the winner of the 2017 Sean Graham Aisling Award for Outstanding Sporting Endeavour. But, as always, the final decision is down to you.
Once again, it was been a quite incredible sporting year for the city, with the task of finding four nominees as hard as it's been in the history of the Aisling Awards.
After much deliberation, the selection committee struggled to whittle the talented list to a final four.
But we can now reveal the 2017 Sean Graham Aisling Award for Outstanding Sporting Endeavour will be contested by Lámh Dhearg's senior footballers, Sarsfield's senior hurlers and footballers, Carryduff ladies footballers and Ryan Burnett.
It has been a quite remarkable year for all four of our nominees who have all created their own special piece of history.
Lámh Dhearg's senior footballers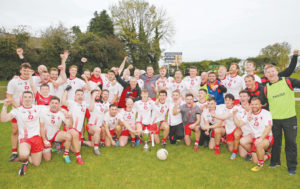 Lámh Dhearg's senior footballers secured the Antrim Senior Football Championship title for the first time in 25 years thanks to their nail-biting victory over St John's in the county final last month.
The Red Hands were men on a mission this year as they looked to put five county final defeats since their last success behind them and they did it with come aplomb.
After a solid opening win against St Paul's, they faced another city rival, St Gall's who they had not beaten in the Championship since 1999 and things didn't look good early on as they found themselves 2-1 to 0-0 down after just three minutes.
However, they showed they were not about to just accept their fate this time as they battled back in a thrilling game to get the better of their rivals and lay down a marker.
It required another come-from-behind effort in the semi-final as they rallied from another poor start to overcome Creggan before that nip-and-tuck meeting with St John's in the final.
After so many near misses, this time would be different as injury-time scores saw them get their hands on the Padraig McNamee Cup amid wild celebrations.
Sarsfield's senior hurlers and footballers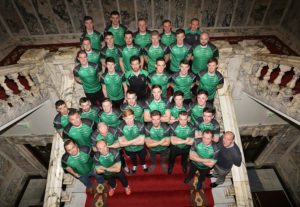 Sarsfield's also brought Championship glory to West Belfast as they secured an Intermediate and Junior football double.
It was quite a remarkable run for the Paddies who completed this double with many 11 players who were involved in both squads, highlighting their adaptability and incredible fitness levels.
The footballers won Division Three to signal their intent and then breezed through the final of the Junior Championship, recording handsome wins over O'Donnell's, Ardoyne and Pearse's before having to show their mettle in an attritional final against St Patrick's, Lisburn.
This victory came one week after the hurlers claimed the Intermediate title.
They opened with a fine win over St Gall's in front of a big crowd and then followed with a semi-final victory over last year's runners-up, St Enda's.
Carey were their final opponents, but were no match to the high-flying Paddies who claimed their first Antrim Championship title for the club since 1985.
Carryduff ladies footballers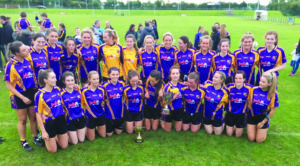 Carryduff ladies' footballers were also breaking new ground this year as they delivered the first senior title in any code to the South Belfast club.
They began in impressive fashion, defeating last year's winners and their local rivals, Bredagh before edging out Castlewellan in the semi-final.
In the final against Bryansford, they were forced to recover from a slow start and the concession of an early goal, but they hit back immediately and enjoyed a goal burst to send them clear and on their way to an historic victory for the club.
Ryan Burnett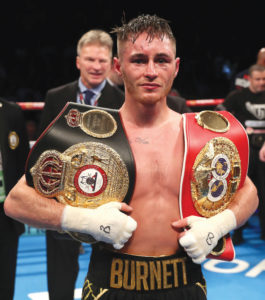 History was not in short supply in the boxing ring this year either with Ryan Burnett writing himself into the annals of Irish folklore.
The North Belfast man has become just the second ever Irish boxer to unify world titles and the first to bring such a prestigious event to these shores.
The Newington man opened the year with a routine, warm-up win over Joseafat Reyes in Hull and it was not long before we found out just what he was limbering up for as next was a shot at the IBF bantamweight title against Lee Haskins.
Some feared it may have been a little too much, too soon for Burnett who had been operating at British level up until then, but he allayed any fears with a stunning performance against the Bristolian to score a wide points victory.
Not happy with simply milking the title for a while and enjoying his status as world champion, the 25 year-old jumped straight into a unification bout in his first defence against WBA holder, Zhanat Zhakiyanov.
The Kazakh offered a much different test for Burnett who was forced to grit his teeth and out-bully a bully, grinding the 33 year-old down before completely dominating the second half of the fight to unify the belts in just his 18th fight as a professional.
In all, we have four worthy nominees for this year's award. Each week we will profile our contenders ahead of the big night on November 24.
Vote Now