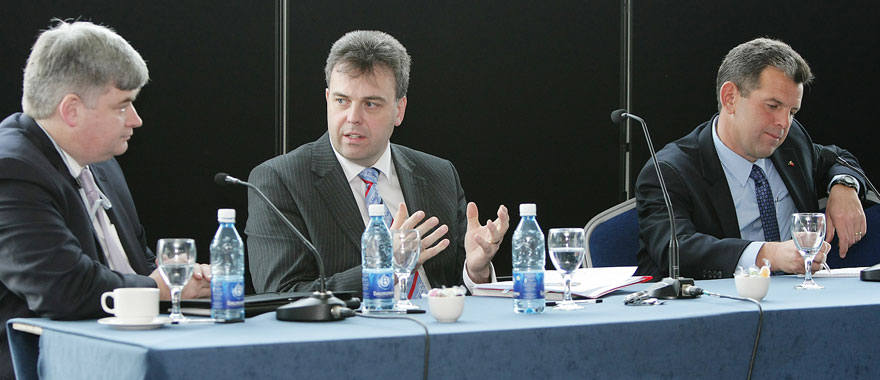 WITH a day and a half of debates, discussions and presentations, the One City Conference takes a while to digest.
After all, we did have speakers from Sweden, Scotland and the US, as well as some of the most provocative and inspirational speakers this city can muster. Our task was to unlock the potential of a city on the rise and, in my view, it's the snippets and soundbites from over 20 speakers and 150 delegates that give the best snapshot of the vitality and vibrancy of the gathering. Here's my favourite dozen conference quotes:
"There are 7,000 languages in the world; one dies every two weeks."
Dr Gabrille Nig Uidhir, St Mary's University College.
"The middle classes went out to play golf during the Troubles and never came back."
Bill Wolsley, entrepreneur and owner of the Merchant Hotel and Little Wing pizzeria chain.
"If King Billy rode up here in the dark, you would mug him."
Jackie McDonald, loyalist leader, on how he admonished teenagers from Sandy Row for not having enough pride in themselves.
"In coming years, we will develop a one city art project, which stretches into every part of this city."
Roisín McDonough, CEO Arts Council of NI.
"In everything government touches, it is too slow."
Founder of Andor, Hugh Cormican, CEO of start-up Cirdan Imaging.
"12 to 18 months to get a new project up and running is too slow; you're into a new political cycle."
Rob Walsh, Commissioner of Small Business Services in New York City, on the proposed timescale for the new Business Improvement Districts programme for Belfast.
"In Alexander Park in North Belfast, we have the only wall in a park in Europe. The good news is that shortly we will be opening a door in the peacewall."
Gerry O'Reilly, inter-community worker, North Belfast.
"We decided that if the problem is marginalisation, the solution is celebration."
Etain O'Kane, Lesbian Advocacy Services Initiative (LASI), Belfast.
"If this Assembly period was about bedding-in, the next needs to be about delivery."
Department for Regional Development Minister Conor Muphy.
"The future success of the city will hinge on our ability to provide jobs and opportunities to our young people."
Lord Mayor Pat Convery.
"With great ease we could fit another 50,000 residents into the centre of Belfast – the least populated city centre in Europe."
Mark Hackett, Forum for Alternative Belfast.
"Whatever our differences, one thing we can all agree on is that Belfast is unrecognisable from the city we knew even ten years ago."
Alex Attwood, Minister for Regional Development.
Máirtín Ó Muilleoir, Belfast Media Group