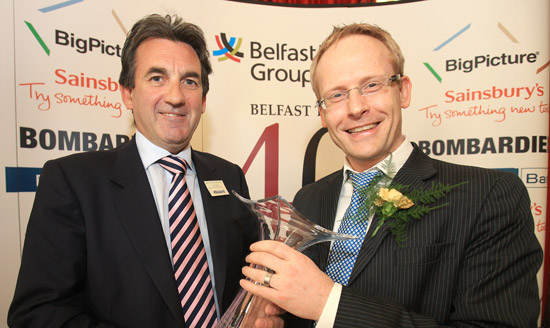 Top 40 Under 40. Great Hall, Stormont. April, 2008.
With this Top 40 Under 40 celebration, the Belfast Media Group is tipping its hat to the burgeoning Belfast and giving well-deserved recognition to our brightest and best.
We're particularly glad to be saluting the young champions of the changing city – those who are young enough to be daring in their ambition and visionary in their dreams.
In truth, the final 40 – selected from over 200 nominations – represent the next wave of Belfast's leaders. They are the post-ceasefire generation which, having inherited the peace process, now wants to forge a prosperity process with dividends for all.
They're a formidable lot from many different fields and backgrounds – from engineers to entrepreneurs, from Olympic boxers to bards – but all share a commitment to make a difference in a city on the cusp of a truly remarkable rebirth.
With our generous sponsors, Sainsbury's, Northern Bank, Big Picture Developments and Bombardier, the Belfast Media Group is delighted, in this commemorative supplement and at our gala luncheon in the Harbour Commissioners Building on 3 April, to clear the stage for a new cast of Belfast stars. May their fortunes continue to soar in the years ahead. Go n-éirí go geal leo sna blianta atá romhainn.
Maria McCourt, Belfast Media Group
2008 Sponsors: Sainsbury's, Northern Bank, Big Picture, Bombardier
The 2008 40 Under 40: Andrée Murphy, Cera McArdle, Chief Inspector Darren Rice, Cllr Gareth Robinson, Cllr Matthew McDermott, Cllr Tierna Cunningham, Cuthbert Tura Arutura, David Craig, David Holmes, David Malone, Dr. Cathy Gormley-Heenan, Dr. Colm G Hanratty, Dr. Máire O'Neill, Eve Bremner, Gerald Hyland, James Walsh, Jennie McCullough, Laura Leonard, Leanne Dunlop, Lesley Maltman, Lorraine Ormsby, Louise Little, Mark Pollock, Maryann Maguire-Michal, Méabh Holland, Méabh O'Hare, Mr. Claude Maguire, Nathan Morrison, Niall Carson, Patrick Barnes, Pearse Elliott, Peter Richards, Peter Thompson, Pilib Mistéil, Sara Walsh, Seán Duncan, Seán Paul O'Hare, Sinead Morrissey, Stephen Boyd, Stephen McGlade
Click the image below to view the 2008 Magazine: