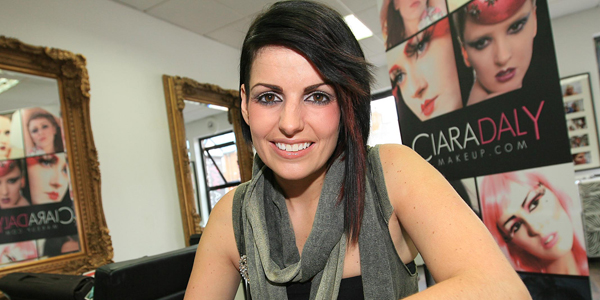 Occupation: Makeup Artist and Creative Director at CiaraDalyMakeup.com
Age: 33
E-Mail address:
ciaramakeup@hotmail.co.uk
Place of Birth: Belfast
Where you live: Derriaghy
First Job: Cashier at a petrol station
What it taught me: Basic working values, namely that nothing comes for free, and at £1.50 per hour you have to work many hours just to get enough for the small pleasures! It also taught me how to communicate on a variety of different levels; customer service skills; cash handling and shop auditing as well as strong organisational skills. Although not my dream job I am grateful for the experience and still have fond memories of my regular customers and colleagues
Family/Status: Single
Name of children: Son Jay (4) and daughter: Darcy (3)
Best advice anyone ever gave you: "Have grit and determination", from my sister Leeanne who had undertaken her own business venture, Aqua Babes. It was through acute observation of her attitude and work ethic that I realised what it was going to take to build a business from scratch
Best advice you could give someone starting out: It takes more than a good makeup technique to become a successful makeup artist. It takes a delicate balance of confidence, communication skills, courage, a strong work ethic, dedication, business knowledge, focus and, most importantly, passion. Create your own opportunities. You can't sit at home waiting on the phone to ring simply because you have completed a makeup course. The hardest part of being self employed is not doing the work, it's getting the work. If you bear this in mind it will drive you forward
After the sudden death of her mother Sharon in 2006, Ciara decided to pursue her long term dream of becoming a makeup artist. Using the tragedy as a turning point in her life, she invested some of her mum's inheritance in various intensive makeup training courses. Perfecting her craft, Ciara built up her confidence by working constantly at weddings, formals, fashion shows and photo shoots, before taking the next step in delivering makeup workshops.
Working to her strengths as a skilled presenter and a gifted teacher, Ciara went on to open the doors of her own makeup school in Lisburn in July 2009. Her success and reputation soared and after just two short years, expansion was inevitable. She relocated her academy to the prestigious Lisburn Road in June 2011 where she offers a myriad of makeup courses and workshops.
Ciara is renowned for bringing innovative brands and ideas to Northern Ireland such as Airbase airbrushing makeup. Adding to her ever expanding portfolio, she has a team of handpicked and personally trained makeup artists who regularly work alongside her at fashion shows, photo shoots and events throughout the north. Ciara also works on various publications, writing makeup beauty columns and product reviews. She also hosts a huge annual charity event called The Shaz Awards, which offer recognition to her makeup students.