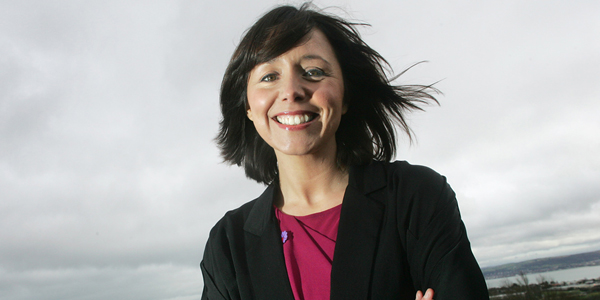 Occupation: Communications/PR Manager, NI Hospice
Age: 34
E-Mail address: claire.trainor@nihospice.org
Place of Birth: Belfast
Where you live: Belfast
First Job: Working in Bobbi's corner shop
What it taught me: Persistence pays off – not long after asking, I secured my first £1.50 an hour job aged 15. It also taught me not to forget my roots, to work hard and that with a plan, £20 can go a long way. I used to be able to buy an outfit and have enough left over for Chicago Pizza Pie Factory
Family/Status: Married
Name of spouse and children: Married to Patrick and have three children – Eoin (8), Sarah (6) and Eva (5)
Best advice anyone ever gave you: When I was 19, my friend and mentor Barbara McCann told me, "There's no next time. It's now or never" and within minutes I was on air reading my first news bulletin for GMTV breakfast news in the Reuters newsroom
Best advice you could give someone starting out: You'll never get yesterday back, but today is yours for the taking. Make it great
Claire Trainor is Communications and PR Manager for Northern Ireland Hospice's adult and children's services. She is responsible for developing and implementing a range of media campaigns, lobbying and managing healthcare related government affairs for the charity.
With over 15 years experience in the media and communications industry Claire has represented a range of clients locally, nationally and internationally. Her career began at 19 years of age as a junior reporter and newsreader for GMTV Belfast. Eager to learn more, Claire travelled the world as an assistant producer working on a variety of projects for TV and news, corporate clients and local government.
Her first project in public relations and lobbying was with a local advertising and PR firm for the Odyssey building project and opening. Later the opportunity to work with an international PR company exposed Claire to representing leading brands such as Anheuser-Busch.
Over the last six years Claire has helped to firmly position Northern Ireland Hospice as a leading charity brand. Her passion for the charity and appreciation of a news story has resulted in successful and award winning media and lobbying campaigns.
Claire is also a recent graduate of the University of Ulster's Business School receiving a MSc in Executive Leadership with distinction.
This year the dedicated Communications and PR Manager is putting her money where her mouth is and is 'Doing It For the Kids' by running the full 26.2 miles of the Deep RiverRock Belfast City Marathon 2012 in support of the event's official partner, the Northern Ireland Children's Hospice. She is currently in training.