Occupation: Governance Secretary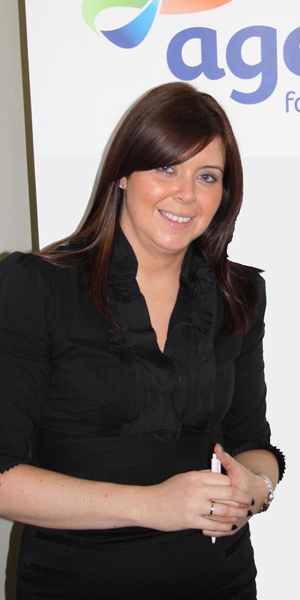 Age: 32
E-Mail address: denise.burns@ageni.org
Place of Birth: Belfast
Where you live: Newtownabbey
First Job: Part-time Sunday job at Co-op
What it taught me: That no matter what I wanted in life I would have to work hard for it
Family/Status: Single
Best advice anyone ever gave you: Never assume anything
Best advice you could give someone starting out: Don't be afraid to try new things, sometimes a career change is the right path
Denise Burns is the Governance Secretary at Age NI, the newly merged charity combining Age Concern and Help the Aged NI. She is responsible for all aspects of the charity's legal compliance, internal governance, risk and compliance mechanisms, as well as guardian of the organisation's ground-breaking shared governance approach to working.
After completing her A-Levels at Belfast Royal Academy, Denise went to UUJ to study English Literature and American History. She then became a primary school teacher, working as a supply teacher in Belfast from 2002 – 2005. Facing increasing competition for jobs she decided to opt for a career change taking a position in the Northern Ireland Housing Executive, and immediately registered for a Masters in UUJ on Management and Corporate Governance. Denise took up post with Age NI in 2009 with a clear focus on preparing the charity for the implementation of the Charity Commission for Northern Ireland, as well as shifting all governance and compliance matters in-house.
She actively progressed the charity's shift to a shared governance approach to working – a first for any Third Sector organisation in Northern Ireland. Championing Age NI as a 'first' in many areas, she continually pushes the charity's boundaries to make it an exemplar on governance and social responsibility. She says making the choice to change career was the hardest, yet the best, decision of her life.
Denise's passion for compliance and regulation also spills into her leisure time in her role as Club Secretary for St Mary's Football Club.