Occupation: Manager, Learning Support Centre, Coláiste Feirste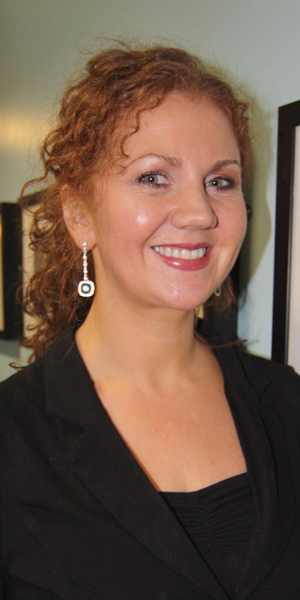 Age: Clinging to 39
E-Mail address: emermitch@gmail.com
Place of Birth: Bóthar Seoighe
Where you live: Belfast
First Job: My first part-time job was in the Saxone shoe store in Castle Place, Belfast. My first full-time position was teaching Irish in St Dominic's High School, Belfast
What it taught me: Shoes and their importance! There was a great team in the shop and we worked hard to make our business competitive and enjoyable. I learned about aesthetics and customer satisfaction and carry that with me today. At St Dominic's, where I taught Irish in a wonderful convent classroom, the school and convent became a home from home
Family/Status: Married
Name of spouse and children: Married to Seán, children Niamh, 11, and Joe, 10
Best advice anyone ever gave you: My Daidí dedicated his life to learning and teaching Irish and never lost his sense that language and learning were important and lifelong concerns. Mamaí gives great advice every day, is very practical and assures me often; if at first I don't succeed, to try, try again.
Best advice you could give someone starting out: Being a wee bit stubborn isn't a bad trait. 'Nearly, almost, as good as it gets,' are not good enough for children with additional learning needs
Emer was raised in Gaeltacht Bhóthar Seoighe and was a pupil at Bunscoil Phobal Feirste. She attended St Louise's Comprehensive College and studied English Literature and Irish at UU in Coleraine. Having completed her PGCE at QUB in 1994, she joined St Dominic's High School in September of that year, where she taught Irish before joining the Senior Leadership Team in Coláiste Feirste in 2008. Emer hopes to begin her Professional Qualification for Headship this year and is currently studying for her Masters in Education.
Emer co-ordinates the provision for special educational needs in Coláiste Feirste and manages the school's Learning Support Centre. The centre has developed significantly since its inception, with a staff of three teachers and 12 classroom assistants who provide invaluable support to students with additional learning needs. Emer is very proud to work with such a dedicated and caring staff and believes that whole school support and provision have been key to the success of the centre.
Emer is happiest when she is walking on Trá Mhachaire Rabhartaigh with her children and husband Seán, who has perfected the arts of nodding, listening and planning routes to Donegal which avoid most major shoe shops.