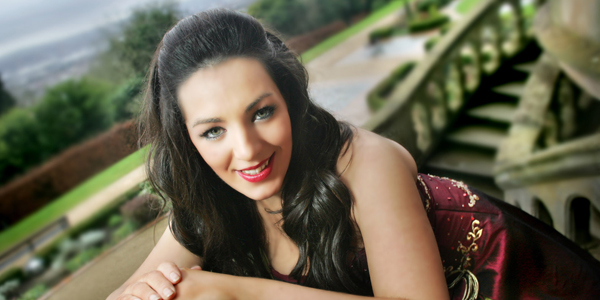 Occupation:Opera Singer
Age:24
E-Mail address: marcella_bernie_walsh@yahoo.ie
Place of Birth: Belfast
Where you live: North Belfast
First Job: Peripatetic Teaching Vocal Performance in Dominican College, Fortwilliam
What it taught me: To be organised, focussed and constantly inventive. I learned to think on my feet and to work in a goal orientated environment as part of a team. It taught me that my passion is to perform and communicate and that I want to gain the knowledge and experience of being a full time performer so that one day I can pass on this knowledge
Family/Status: Single
Best advice anyone ever gave you: The world is your oyster! If you want something enough you can make it happen. Be determined, hard working and do everything with a smile. "Keep your feet on the ground and always remember the bowl ye were baked in!" Never take anything or anyone for granted and live for the moment
Best advice you could give someone starting out: Don't dwell on the past, don't worry about the future, seize the moment. Think big, setting long term goals with short term realistic, practical and manageable goals. Become passionate about your work, have an interest in everything but always try to maintain balance in your life. Take time to enjoy life, friends and family
Marcella Walsh is a 24 year old operatic soprano from Belfast. Upon graduating from Queen's University where she was honoured as Student of The Year in 2008 and after receiving a Bachelor of Music degree, Marcella was praised as "one of the best sopranos of her generation".
The North Belfast talent was awarded the Young Voice of Northern Ireland Bursary from the Flax Trust enabling her to accept a place on a Postgraduate Performance Diploma, studying under the tutelage of legendary soprano, Dr Veronica Dunne at The Royal Irish Academy of Music. After receiving first class honours, Marcella gained a place on the Masters in Opera. The Royal Irish Academy of Music presented her with the Gaiety Bursary for academic achievement and excellence in performance.
Marcella has performed in New York, Italy, Belgium, Germany and extensively in Ireland. She has performed leading operatic roles with international opera companies such as Wexford Festival Opera, Opera Fringe, Lyric Opera Productions and Montalto Musica. Marcella made her Ulster Orchestra debut live on BBC Radio after being awarded the BBC & Arts Council NI Young Musicians Platform 2011-2013.
She is a Northern Ireland Opera Young Artist 2012 and has been hailed by the Irish Times as "having a captivating presence onstage". The young soprano was also invited to perform at Áras an Uachtaráin for the then President of Ireland, Mary McAleese and has just returned from performing in Beijing, China in January.