Occupation: Solicitor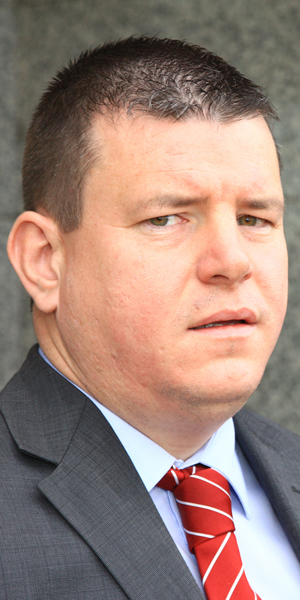 Age: 35
E-Mail address: niallm@kevinrwinters.com
Place of Birth: Belfast
Where you live: Glengormley
First Job: Glass washer in a city centre bar
What it taught me: That £1.50 per hour was not going to provide a career, but that enjoying work and getting on with work colleagues is as also very important
Family/Status : Married
Name of spouse and children: Marie, and two boys Manas (4), and Fionntán (2)
Best advice anyone ever gave you:  If you work as hard as you can, and have done your best, then you can have no regrets (from my parents)
Best advice you could give someone starting out: Treat every person you meet in life with the same respect you would expect yourself; make assessments from as informed a position as possible; listen to all points of view as you have to be accountable for any decision you make; and once you make a decision, stand firm and do not be harassed or intimidated
Niall is a solicitor and partner in Kevin R Winters and Co, the largest criminal law practice on the island of Ireland.
Educated at St Mary's CBGS he completed his 'A' levels in 1995 and graduated from QUB with a law degree in 1998, immediately commencing an apprenticeship at Madden and Finucane Solicitors, gaining crucial experience assisting preparation for the then upcoming Bloody Sunday Inquiry. Niall was the first solicitor employed by Winters and Co in 2001 and became partner in 2003 at the age of 26. Since then he has worked on several of the most significant criminal trials of this century and in recent years, his practice has widened, defending several Basque separatists in Spanish extradition applications and further representing families bereaved as a result of state collusion with paramilitaries.
Niall is also instructed on behalf of several families to act at the reopening of the 'John Stalker/Shoot to Kill' Inquests in 2013, relating to the murders of six unarmed men in 1982 by the RUC.
Niall is a keen Gael, serving as Chairperson of Gaelscoil Éanna (described by Iontaobhas na Gaelscolaíochta as the fastest growing Gaelscoil in Ireland). In 2004 he was one of the founders of the first Irish medium nursery in the Newtownabbey Borough which opened with seven children. Gaelscoil Éanna followed in 2008 and in September 2012 will welcome over 100 pupils to a brand new school building.   Niall is currently Assistant Secretary to St Enda's GAC who have recently developed two additional pitches, which means that in the past 18 months, Glengormley Gaels have secured over £1 million of investment. Niall also won Ulster and All Ireland medals with Antrim junior hurlers in 2002.