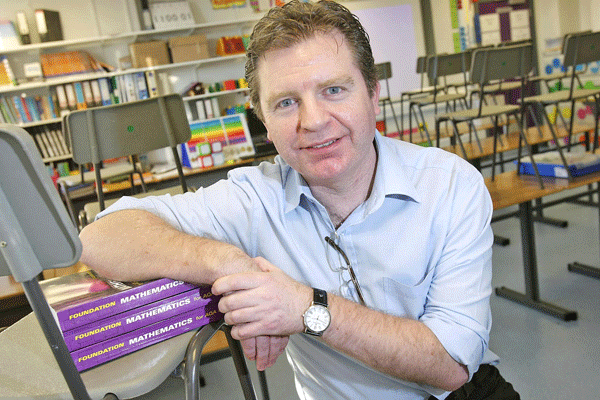 Eddie Mallon St Genevieve's High School
www.stgenevieves.org.uk
Subject: Mathematics.
Age: 46
Your place of birth: Belfast.
Where You Live: Glengormley.
First Job: Print Estimator.
What it taught me: To keep on going, no matter what.
Family/status: Married.
Best advice anyone ever gave you: Never ever give up.
Best advice you could give someone thinking of a teaching career: Try it out first, volunteer. If you enjoy the challenge and the fun of working with children, if you enjoy a job where everyday is totally different, if you are not afraid of hard work and you want to make a difference to just one person's life, then teaching is the job for you.
Eddie went to St Kevin's primary school on the Falls Road, followed by St Mary's Barrack Street and then St Thomas' on the Whiterock Road.
"After school I worked as a Print Estimator for four years but quickly decided that I would like to become a teacher," he says.
"As I was married at the time, I needed to keep working while I studied. I was very lucky to get a chance to drive a black taxi on the Falls Road for the West Belfast Taxi Association. That allowed me to go back and do A Levels and also to eventually go to St Mary's College to qualify as a teacher."
Eddie says driving a black taxi was one of the defining moments of his life.
"It allowed me to go back to study and taught me many important things," he adds. After graduating, Eddie secured a job in St Genevieve's where he is now the Head of Maths.