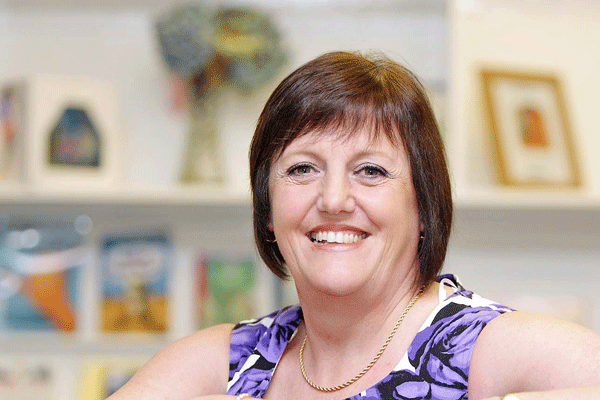 Eileen Quinn
Principal
Tullycarnet Primary School
www.tullycarnetps.com
Subject: Teaching Principal.
Your place of birth: Belfast.
Where You Live: Dundonald.
First Job: First permanent teaching post, Tullycarnet PS in 1985.
What it taught me: Teaching is not purely about teaching academic subjects but the social and emotional wellbeing of each child is equally important in order for them to achieve their full potential.
Family/status: Happily married with three grown-up daughters.
Best advice anyone ever gave you: My parents advised me from an early age to respect others and treat them as I would like to be treated myself. This is my motto in life and when I speak to  parents I have a great respect for them and try to appreciate their particular circumstances in life and how I would feel if in their situation.
Best advice you could give someone thinking of a teaching career: Teaching is not like any other job and can be very challenging. Commitment and dedication is needed to fulfill the role to the best of your ability. The future of young children is in your hands; especially in the early years when how we fulfill our
role has a big impact on creating the necessary foundation skills for them in later life.
Eileen's education  began in Mersey Street Primary, transferring at the age of nine to Dundonald Primary and then on to complete her secondary educaton at the then newly-opened Dundonald Girls' High School. She graduated from Stranmillis College in 1979 with a B ED degree and began her teaching career in a substitute capacity until 1985 when she obtained a permanent post in Tullycarnet Primary School.  After teaching P2 and P3 classes for a number of years she was appointed Vice-Principal in 2003 and then Principal in 2011.
Eileen set up the first Nurture Group in Northern Ireland in 2001 and this group has helped many children make the transition from home to school an easier experience.
"Working in Tullycarnet has been a very enriching experience and over the years I have come to know many families, often welcoming back the children of those I have taught," she says. "I truly believe that when teachers and parents work together, pupils can achieve their maximum potential in life. Who would have thought all those years ago when my school life began in East Belfast that I would be occupying the position of Principal today? It just goes to prove that with the support of a loving family, dedicated teachers and personal ambition no goal is too big!"