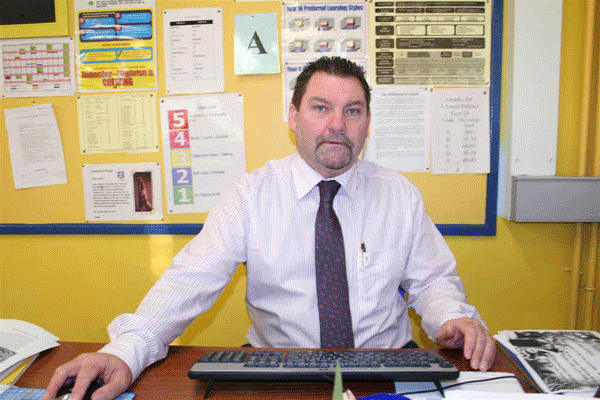 Gerry Cushnahan
St Colm's High School
www.stcolmshigh.org
Subject: History and Politics
Your place of birth: Lower Falls, Belfast.
Where You Live: Lisburn.
First Job: Helping my brother during school holidays tile floors and also working behind the bar at the old Arlington Hotel on Blacks Road in Belfast.
What it taught me: Not to attempt to lay floors the morning after working in the bar! Seriously though, I learnt that there are easier ways to make a living than both of the above. (Take note, that teaching is not one of them!)
Family/status: Married.
Best advice anyone ever gave you: To always stand up for what you believe in and to be consistent in your treatment of others as everybody brings something to the table. In relation to teaching it was to remember that you do not simply teach a subject but instead you teach young people with all of their strengths, weaknesses and idiosyncrasies. I was exceptionally fortunate to be taught by Harry Trainor who was the embodiment of the above.
Best advice you could give someone thinking of a teaching career: Even given the criminal lack of job opportunities for young teachers, I would still tell them to go for it. I can think of very few jobs where you actually get paid to make a difference to young people's lives.
Gerry worked as a Regional Official for NUS-USI Union for three years. "It was a particularly interesting time as it was during the formation of the University of Ulster with all of the legal implications for the Unions across the different campuses," he recalls. "It also marked the development of the Magee Campus in Derry.  I then lectured in Rupert Stanley-BIFHE on their Staff Development and Adult Education Programmes before going on to work at the Open University for five years lecturing on their Community Development Initiative."
In 1999, Gerry left the Open University to take up the position of Youth Tutor at St Colm's High School in Twinbrook. "I have to say that because of the nature of the role working with young people both in the school and in the more informal setting of the Youth Club in the evenings, there were a lot of challenges but it has been a truly rewarding experience and my best career move to date," he says. In 2006, Gerry took on a more formal role within the school and currently teaches History and Politics whilst retaining a Board responsibility for moderating Youth Work Programmes.
"I can genuinely say that I know of no other school where the staff provide the quality of education and care for the young people that they have a responsibility for," he adds.  I am obviously biased but St. Colm's provides an educational haven for the young people of Twinbrook and Poleglass. What they deserve, however, is a better school building to facilitate the outstanding efforts of the St Colm's staff. The Poleglass and Twinbrook communities deserve an educational facility to match their aspirations and hopefully at this stage we are on the cusp of this dream becoming a reality. Why should our community accept anything less