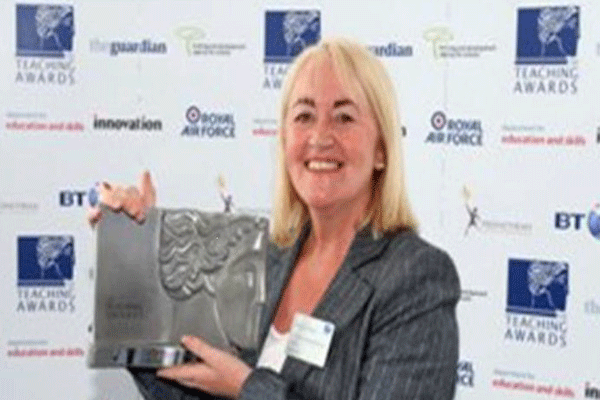 Helen Hamilton
Principal Cranmore Integrated Primary School
www.cranmoreips.co.uk
Subject: Principal.
Your place of birth: Belfast.
Where You Live: Hillsborough.
First Job: P3 Teacher Holy Child Primary School.
What it taught me: Never to agree with a senior teacher until you know what you're agreeing to – you're usually getting your eye wiped!
Family/status: Married.
Best advice anyone ever gave you: Only surround yourself with positive people, detractors keep you from achieving your goals.
Best advice you could give someone thinking of a teaching career: Only do it if you have a passion for learning and a passion for kids. If you don't have those reasons for teaching then you're doing the young people a total disservice.
Helen Hamilton has devoted a lifetime of service to the field of primary education. Her particular passion has been to lead, cultivate and encourage tolerance and respect in Northern Ireland's divided community and it is for this reason she has given both her unstinting time and very considerable energy to the cause of integrated education. Before moving into integrated education, Helen taught in West Belfast at the height of the 'Troubles'.
Helen is a woman who will stop at nothing to get the best for her pupils. She has demonstrated tremendous tenacity and spirit in creating Cranmore Integrated Primary School, even when the odds of success appeared doubtful. With her vision, dedication and energy – and a small band of committed parents – Helen has proved herself to be an exemplar of integrated education and in 19 years has developed a flourishing school that caters for pupils from all religions, cultures and social backgrounds.
Her passion and commitment to education is legendary, and from a school roll of just 37 pupils in 1993, Helen now leads a team that delivers high-quality education to a full complement of more than 200 children. With nearly over 40 percent of pupils having special educational needs, Helen has been determined to give them the best facilities possible, including a unique and state-of-the-art Sensory Room.
Parents have high praise for Helen's role in the Finaghy school.
Mrs Hamilton embraces all that is good about integrated education. Her obvious enthusiasm, nurturing approach, recognition of children's different talents and her demand for education in an equal but diverse environment has won plaudits from her peers.