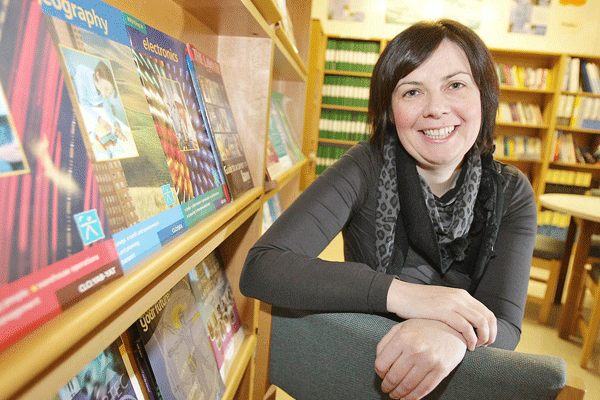 Mary McHenry
Vice-Principal
St Louise's College
www.stlouises.org.uk
Subject: Vice-Principal.
Your place of birth: Lisburn.
Where You Live: Belfast.
First Job: Geography Teacher in St Louise's.
What it taught me: Importance of ensuring that every child in my care achieved their full potential.
Family/status: Single.
Best advice anyone ever gave you: Never ask anyone to do anything that you wouldn't do yourself.  When you give in life you get so much back in return.
Best advice you could give someone thinking of a teaching career: Never forget the privilege that it is to be able to make a difference to lives of the young people that you come in contact with.
Mary is currently the Vice-Principal in St Louise's Comprehensive College. St Louise's is a large, all-ability school of over 1500 students. As Vice Principal she is responsible for leading the following teams: Quality Learning and Teaching Team, Quality Audit Team, Head of Department Team, Key Stage 4 Raising Achievement Team and the Key Stage 4 Pastoral Team. She is also involved in the Curriculum and Assessment Council with Queen's University Belfast and is chair of the Professional Development Group within the Area Learning Community.
She completed her BA in Geography and Economics in 1997 at QUB. Having achieved her PGCE from UU, Coleraine, she successfully gained employment in St Louise's as a Geography teacher in 1998. In 2001, she was appointed Head of Geography. She achieved her MSC and PQH at this time. In 2004, she gained promotion and was appointed Senior Teacher. This role gave her an opportunity to lead a Pastoral Team and work closely with parents and a wider range of staff. In 2007 she was appointed Vice-Principal for Curriculum in St Louise's.
"In my role as VP I have led many developments in Learning and Teaching," says Mary. In the last two years she been involved in the following: Lesson Research Studies in partnership with QUB and GTCNI; involvement as a Research Partner with key academics linked to the planning of the Northern Ireland Curriculum; partnership working with RTU and the GTCNI in the dissemination of effective assessment practice and Personalised Learning; dissemination of good practice to the college's Primary Partners in terms of effective transitional arrangements; presentation of a Paper at the International Thinking Conference attended by world academics in June 2011; dissemination of effective curricular practice at inter board level; dissemination of effective curriculum practice to our global partners and involvement in the Studio On Partnership Programme.
"It is my great privilege to work with children, staff, parents and the wider community of St Louise's," adds Mary.