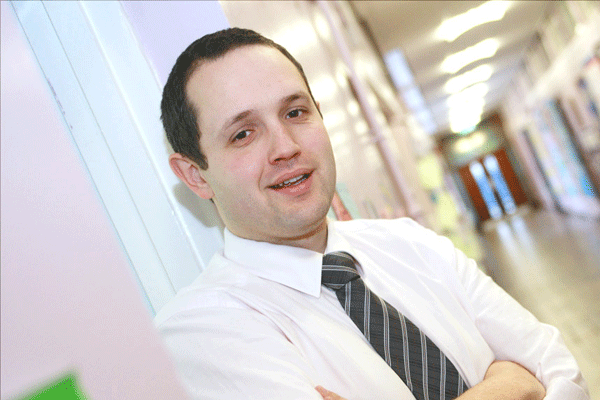 Nigel Charles
Carr's Glen Primary School
www.carrsglenps.com
Subject: Primary Curriculum.
Your place of birth: Mid Ulster. Brought up in a rural part of Cookstown.
Where You Live: Lisburn.
First Job: After I graduated my first full-time teaching position was at post-primary when I taught Geography to A-Level and Key Stage 3 Science, History and Physical Education for two years.
What it taught me: My first teaching position taught me how to be adaptable and flexible because I was trained to teach at primary level at Stranmillis University College. I had to work hard to produce resources and lessons for pupils at post primary level. I really enjoyed the challenge of teaching to the requirements of specifications and curriculum areas to pupils in different subject: areas. I found the content really interesting and I hope that my enthusiasm rubbed off on those pupils!
Family/status: Married with one son.
Best advice anyone ever gave you: From an early age my Mother and Father have encouraged me to try hard to better myself in life and use education as a way to do this. They also impressed upon me that a strong work ethic, enthusiasm and common sense is important.
Best advice you could give someone thinking of a teaching career: The best advice that I could give to anyone aspiring to enter into the teaching profession is to make sure that they have additional skills and experiences that would add to any school. It is also very important to make yourself known to schools by going out to them and giving your CV in person.
Make use of your network of friends, particularly if they are aware of any positions or substitute teaching available. The job market in teaching is very competitive because there are such few teaching jobs. I have experienced this at first hand and it can be frustrating at times – you just have to keep trying and believing in yourself! Through my time as a substitute teacher I worked hard to try and go above and beyond the expectation of the class teacher when I could.
A strong work ethic, good organisation, a pleasant manner to children and staff and a good grasp on class behaviour is very important. There are so many facets to teaching, that you have to work really hard. I am always evaluating my lessons and changing and adapting things to meet the needs of my pupils. So much work is done after school with planning and sorting out resources to suit children of varying abilities — something many people don't see.
Teaching is a rewarding profession. You can get so much out of it when you work with the children and it is lovely to see them progress and achieve. I enjoy the positive interaction with the children, parents and staff. I like to take an active interest in the pupils that I teach and set them targets in order for them to progress. Creating a happy, stimulating and well organised learning environment is also very important.
In 2004 Nigel graduated from Stranmillis University College with a B.Ed (Hons.) degree in primary teaching, with his specialist subject being Geography. Straight after he graduated, he taught in post primary for two years. For a year he found himself substitute teaching in a variety of schools. During this period Nigel continued teaching Geography part time at GCSE level. In 2007 he won a financial bursary from the Department of Agriculture to study at Masters level. He graduated in 2008 with an M.Sc in Rural Development and Project Management from Queen's University Belfast. This year is his fifth year in his current teaching position at Carr's Glen Primary School, Belfast. During this period he has taught Year 4 and 5. After school he coaches girls hockey and co-ordinates Cycling Proficiency.
"I got married in 2008 to my lovely wife Rita and have a beautiful son called Peter," says Nigel. "Hopefully there will be a new addition to the Charles family at Christmas! In my spare time I enjoy watching sport (particularly rugby) and playing indoor bowls for a local team. I like to spend time with family and friends."