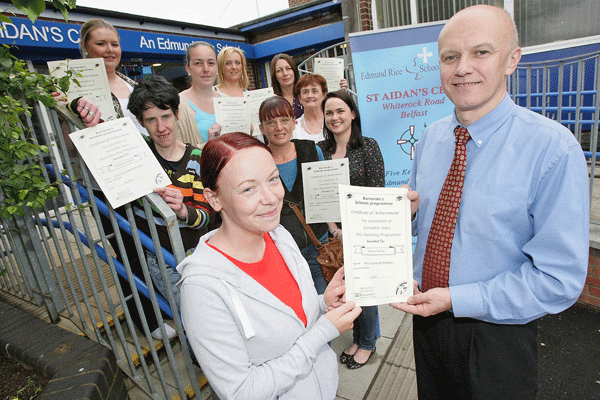 Raymond Hunter Principal St. Aidan's CB Primary School
www.staidanscbps.com
Age: 54.
Place of birth: Belfast.
Where You Live: Belfast.
First Job: Car Salesman.
What it taught me: The value of money.
Family status: Married.
Best advice given: People should always come first. Every organisation will reach beyond its full potential if it ensures that people come before process, that menus come before mandates and that collaboration comes before control.
Best advice to someone thinking of a career in teaching: Remember to always view teaching as the opportunity to learn twice. Make sure that you bring your interests and your hobbies to the classroom and don't forget that kids need to see you making mistakes in order to learn. Place a poster in your classroom that reads:  "Education is what remains when all that has been learned has been forgotten" and don't forget to explain this to your kids. Make sure you inject as much humour into your teaching as you can —  and make sure you rotate your staffroom seat position to inject new life into the staffroom environment!
Raymond was born in Belfast in 1958 and attended St. Teresa's Boys Primary School, moving on to the Christian Brothers' Secondary School, Glen Road in 1970.
After leaving school, he spent eight years in the motor industry before completing A Levels to gain entry to St. Mary's College where he completed a degree in primary education. He spent 13 years teaching in St. Kieran's Primary School, Poleglass, moving to St. Aidan's CBPS as Vice-Principal in 2003. Three years later he became Principal. He has just been appointed as Principal Designate for John Paul II Primary School in Corpus Christi Parish, Belfast.
Raymond is married with three children aged 25, 28 and 31. "My interests include owning and driving a 1968 Morris Minor, music, reading and being a bit of a self-confessed Titanorak," he says. "I am also working on a long-term project of building a railway-size scale model of my childhood family home area with shops and homes near the site of the former Andersonstown Police Station. When I make the time, I love to travel – especially on city breaks. Any time left over is for spending with my family, including my cat — or sleeping!.