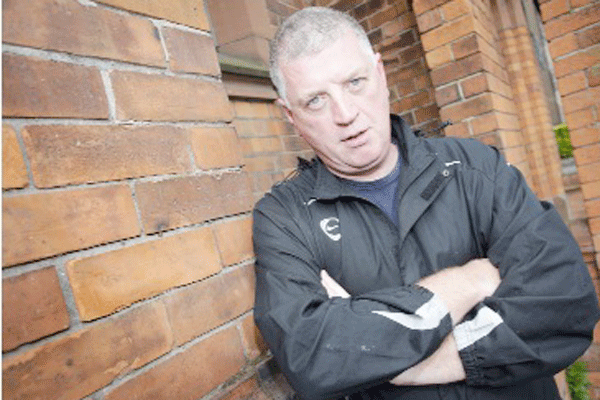 Age: 51
Place of birth:  Belfast
Where you live: Glengormley
Club/Association: Newington YC FC
Your Sport: Football
Your earliest sporting memory: My earliest sporting memory is going to Casement Park around 1965 with my father and mother (both avid Gaels). I remember standing on one of the grass banks around the pitch and being amazed at the huge crowd that was there to watch the game.
Your sporting idol: The famous captain of Leeds United in the late 60s/early 70s Billy Bremner.
Best piece of advice you could give to a young athlete: Listen to your coaches and mentors, they know what they're talking about. They've been there and done it before. Always remember to play with a smile on your face and above everything else it's important that you enjoy yourself and enjoy your team-mates' company.
The most important thing for sporting success is: To be successful in team sport you have to work hard and play hard. Yes, you have to be dedicated to your sport. And yes, you have to be prepared to put in hours of practice while some of your friends are off doing other things. But if you work hard for yourself, your team-mates and your club, and do it all while having a laugh, the rest will fall into place.
By the way, success does not always translate as silverware. At Newington we measure our success on our ability to provide our members, young and old, with an environment that encourages camaraderie, respect of one another and good craic. I have made many, many life-long friends because of my involvement in sport. That's way more important than any medals.
I was born in Parkside Gardens on the Limestone Road in July 1960. I was the sixth child of Gerry and Mary Burns. I went to Edmund Rice Pim Street Primary School and then on to Harding Street/Park Lodge. This was before the school made the permanent move to the Hightown Road.
I left school at 15 and went to Felden Training Centre where I served my time as a painter and decorator. I'm currently in a partnership as a painting contractor.
I married Gerardine McIvor in January 1984 and have three children; Rozanna (28), Brian (25) and Gerry (18).
When I was 11 years old I joined Newington Youth Club's football team, under the tutorage of Walter Murray, Seamus McAloran and Gerard Douglas. I stayed there for four years.
I was 19 years old before I played football competitively again. I played for Hill Hall Rangers in the Lisburn League for a while before helping to form Jubilee Olympic, which was later to become Newington YC FC, in 1979, with friends from Newington's Youth and Boxing clubs.
Barring a short stint at Amateur League high-fliers Cromac Albion in the second half of the 1985-86 season, I played for Jubilee/Newington all of my career. During this time we won every title the Dunmurry League had to offer. We also won the Junior Shield in the early 90s.
I first moved into the player/management role in 1994 when I took over Newington's seconds along with my assistant Tony McCoey.
I then became the first team's assistant under Dutchman Wladimir Smit, winning two Cochrane & Corry Cups and Division 2A of the Northern Amateur League.
When Wladimir stood down I took over the reigns of the firsts along with Denis Sweeney. I had managed a Newington Youth team with Denis a couple of years prior. At the first time of asking we managed the senior XI to the NAFL Division 1B title.
At this time I was also Bernard Thompson's assistant manager at St Patrick's Youth FC. Over three years, we guided a squad of young players from the New Lodge and its surrounding areas to seven trophies and two NI Cup finals.
I decided to take a break from management in 2002. I dusted off my boots and returned to playing full-time for the club's second team at the age of 42. That season I won the player's player of the year award.
I took over as secretary of Newington in 1987, the same year the club won our first trophy. I remained as secretary until 2011, when I became chairman of the club.
I am very much enjoying my role at Newington at the moment. These are great times to be involved with the club. We have been working closely with Crusaders FC on many initiatives, one of which will see the construction of a brand new stadium that our clubs will share at Giants Park.
The club currently consists of a first and second team, an Under 18 squad that plies its trade in the top tier of the IFA Youth League and a extremely strong youth set-up that provides footballing opportunities for the area's young people, boys and girls, aged 6-17. The future is looking very bright for everyone involved with the club.
I feel privileged and proud to have had the opportunity to play alongside, manage and officiate over some of the best young (and old) people that Belfast City has to offer. I'm honored to have been nominated as one of the Belfast Sports Volunteers for 2012.