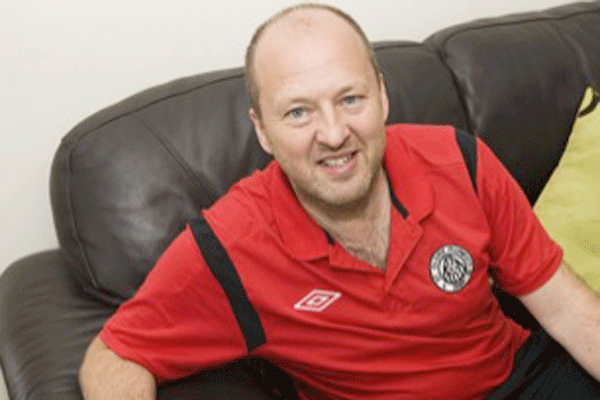 Age: 43
Place of birth:  Lurgan
Where you live: Belfast (since I was three)
Club/Association: St Oliver Plunkett Football Club
Your Sport: Football
Your earliest sporting memory: I have very vague recollection of the 1974 Euro Cup final featuring Bayern Munich but my most vivid memory is sitting in my granny's house in North Link along with my father and uncles, watching the 1975 FA Cup between West Ham and Fulham.
Most people judged it as a poor final but I remember being smitten by the sense of occasion and the excitement of the match itself.
Your sporting idol: In professional terms Diego Maradona but my real sporting idols are closer to home.
Best piece of advice you could give to a young athlete: Sport a lot of times fails the child rather than the other way about so I would advise a young person to firstly experience the sport, commit to it, believe in yourself but never allow yourself or anyone else to place on you a level of pressure that takes away the enjoyment of playing the game you love.
For me I always stand by the old adage that we should always be open to learning no matter what your age or experience.
The most important thing for sporting success is: True sporting success to me is making sport a positive influence on your life throughout. That is why looking after a child's introduction to sport is a major factor in whether they choose sport as a lifestyle choice.
Around 1987 and having finished the season playing under 17 with the club myself and a good friend of mine Ray Gorman asked to become involved with the underage sides. Our inspiration was Jackie Maxwell who at the time was almost a one man band, attending meetings, cleaning kit, driving buses, etc. So I think we were there to show our appreciation to Jack.
Anyway 25 years later I'm still here as the club Secretary and in the interim have seen so many young people come through the club, which I hope has provided life long friendships, a sincere affiliation with the club and enriched them in many ways to be better people. The club is a seven-day-a-week operation for myself and others.
What's particularly pleasing on a personal level is that those doing so much of the work for the club today are great guys, some who I coached as kids, and with whom the future of the club is in good hands. With many other sports clubs struggling today I am proud to say that Plunkett are the biggest junior football club in the North with 22 sides and over 300 members.
We are very fortunate to have a highly skilled coaching team who organise 44 coaching sessions per week and play 22 games throughout the week all over the North of Ireland. Taking our Under 15 South Belfast squad I also feel very privileged not only to be Secretary but also to be part of this close coaching team.
All those involved are totally voluntary and although many are fully qualified coaches they choose to work unpaid with the children. Today the players receive specialised coaching in athletics, core strength and agility training to name a few. On the field this season we have brought home three Northern Ireland Cup titles and have numerous boys picked in the NI Elite squads.