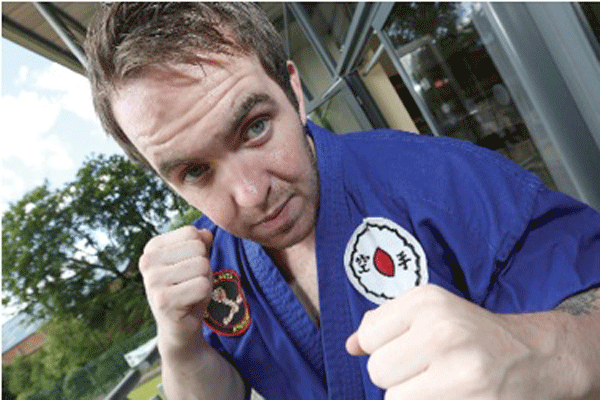 Age: 24
Place of birth:  Belfast
Where you live: Belfast
Club/Association: Cobra Martial Arts Association
Your Sport: Ju-Jitsu
Your earliest sporting memory: Acheiving my yellow belt grading in Andersonstown Leisure Centre at the age of seven.
Your sporting idol: Bruce Lee
Best piece of advice you could give to a young athlete: To keep trying and to work as hard as you can. If you put in the hard work you will get the results. Do not be afraid to make mistakes as you learn from them.
The most important thing for sporting success is: Dedication and hard work, listening to coaches or training partners and keeping an open mind. Always be willing to try new techniques.
I started Ju-Jitsu at six years of age in Andersonstown Leisure Centre and I now currently train and coach at the Falls Pavillion Club, Falls Park (previously Beechmount Ju-Jitsu Club). Ever since I satrted Ju-Jitsu it has been an important part of my life and has helped me become the person I am today, which taught me how to be hard working, dedicated and disciplined.
I train outside of Ju-Jitsu at the Andersonstown Leisure Centre several days a week where I do fitness and weight training. Since training under Sensei Paul Simpson I have improved my training and skills as he has iinspired me through the years to be a better martial artist.
I would like to pass on the coaching that I have had onto the other students and kids that come into the class and make sure they get the best possible coaching available.
To improve my knowledge of Sport and how the body performs I studied Sports & Exercise Science which gave me a better understanding of coaching and the importance of fitness during sport. I have gone through the ranks and grades of Ju-Jitsu through all my junior grades and also my senior grades. At the age of 14 I achieved my junior black belt and at the age of 16 I achieved my senior black belt.
Through the course of my training I had a lot of injury set backs. With the help of coaches and family I had put the set backs behind me and I am constantly looking better ways to improve my fitness and skill levels and I am now preparing for my next grading and hoping for a few competitions this year.