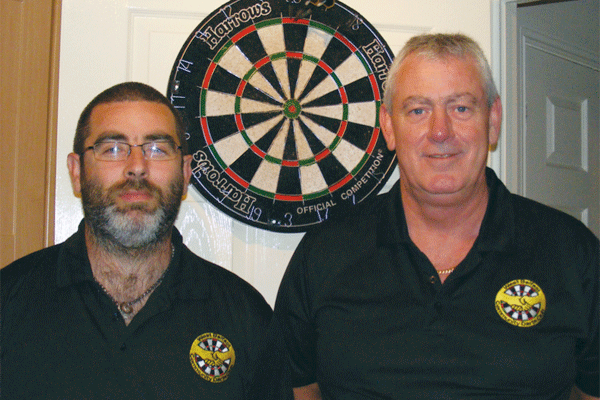 Age: 48
Place of birth:  Belfast
Where you live: Stewartstown
Club/Association: West Belfast Community Dart Club
Your Sport: darts
Your sporting idol: Eric Cantona
Best piece of advice you could give to a young athlete: Commitment and perseverance
The most important thing for sporting success is: Practise and a positive attitude
Age: 38
Place of birth:  Lurgan
Where you live: Crumlin
Club/Association: West Belfast Community Dart Club
Your Sport: darts
Your sporting idol: Roy Keane
John and Paul both were involved in sport from a young age.
Paul had success in a cross-section of sports including basketball, table tennis, GAA and cross-country running while John specialised in football.
As relative beginners they formed Caulfields darts team in 2003, achieving Cup success immediately.  Inside three years Caulfields, now named Trinity Lodge, had won the Belfast Central Darts league. A title to this day they have yet to relinquish.
John and Paul provide the transport to dart evenings, secured sponsorship for shirts and built the best facilities for playing in Belfast due to their trade skills.
They often step out of selection to maintain morale in this team.
In 2010 they helped form the West Belfast Community Darts Club (WBCDC) and accepted roles of treasurer and secretary.
They assisted the WBCDC build the West Belfast Open into the mainstay it is today and were also were instrumental in the success of the 2011 Community Darts Cup, created to promote cross-community relations with other leagues in Ireland.
This agenda has been furthered this year when they formed and secured funding for the 10-week Crumlin Open.
They have laid the foundation for local talent to pursue a career in darts by securing PDC Q-School qualifying events beginning in September.
They have also provided a platform for youth darts within the West Belfast Open and are in the early stages in the creation of a darts academy within the WBCDC.