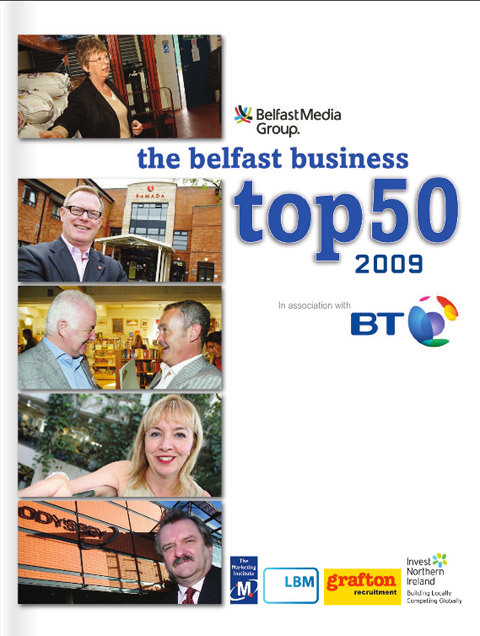 The fifth annual Belfast Media Group Belfast Business Top 50 listing was unveiled at Stormont's Great Hall at a dinner in Stormont's Long Gallery on Thursday 24 September.
Top 50 accolade recipients represented a diverse range of entrepreneurs and business leaders from every part of the city. Sponsors include Invest Northern Ireland, Grafton Recruitment, LBM and premier business partner for the third year will be BT.
BT awarded the ICT & Unified Communication Award on the night to Terence Brannigan, a non-executive director of Resource, now the biggest-employer in Northern Ireland..
Graham Harmer, Head of Field Sales for BT Business said : " We are very proud to support the top 50 entrepreneurs and business leaders in Belfast, who over the last 12 months have worked hard in their individual fields to progress and develop their businesses, despite the severe economic challenges. Belfast has a strong entrepreneurial history and we look forward to continuing to support local business by implementing smart communications solutions, tailored for their needs".
The Top 50 salutes up-and-coming companies as well as the city's business titans such as Bombardier and Tyco. Among the well-known names who have appeared previously on the list are hotelier Bill Wolsley, restaurateur Michael Deane and John McCann of UTV as well as Shankill Mirror managing editor John McVicar and culturepreneur Rita Duffy.
Invest NI sponsored this year's Growth Award, which went to Jurgen Prause of Rehab Studio for exceptional levels of growth in sales over the past 12 months.
Said Invest NI:Graham Davis, Invest NI's Director of Regional Economic Development, said: "In order to maximise their commercial potential and contribute to economic growth in Northern Ireland, established businesses must continue to focus on ways to expand and become successful in export markets. It is important that local businesses are recognised and rewarded, through initiatives such as this, for achieving success through innovation and entrepreneurship."